SECOND YEAR OF HIGH SCHOOL STARTS NOW
Oh my God. Today when dad took me, Sini and EB to school I was really shocked. Last night was the biggest storm in Finland for like 50 years and almost every other house had been crushed by a falling tree!
Yesterday evening was very beautiful at first, it was all kind of... pink and blurry ('cause of the smoke coming from the neighbour country) Then a terribly powerful wind came out of nowhere and suddenly it was pitch dark! Then came the rain and the lighthing, and I've never seen such scary scary storm! At first we stood in the terrace watching the powers of the nature grumbling above us. Then it started looking like the two big trees (like 20 meters) of our garden are going to fall on us and we ran in. Thank God they didn't. I thought I could watch telly or hang in YouTube but then, BLAM, all the electricity gone. Powerlines BOOM. Phone connection BOOM.

This morning it was all nicely chilly and fresh (which I enjoy very much, after four weeks of 34 degrees) but I felt sorry for all the families with a crushed house. This kind of creeps me out, too. Is this because of the climate change? Finland is known as a freezing place that all kinds of natural catastrophes have forgot for thousands of years, and now it's almost 35 degrees? And where the hell did the tornados of last week's come from? What next, earthquakes? Gosh!
Sorry for that. Anyway, as the title says we started our second year in Kannas high school today. It was just kind of a... year starting ceremony. Here are some pics of what me and Sini wore today: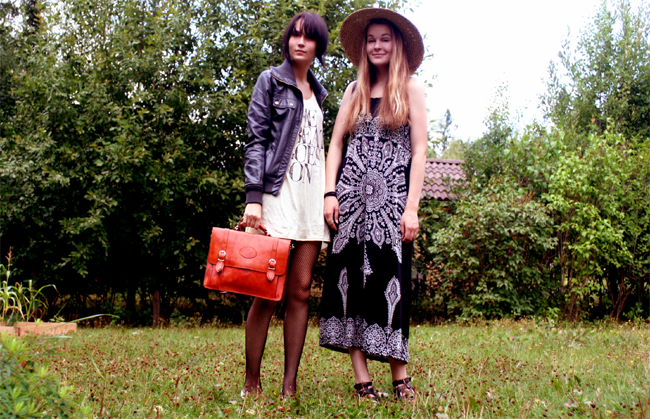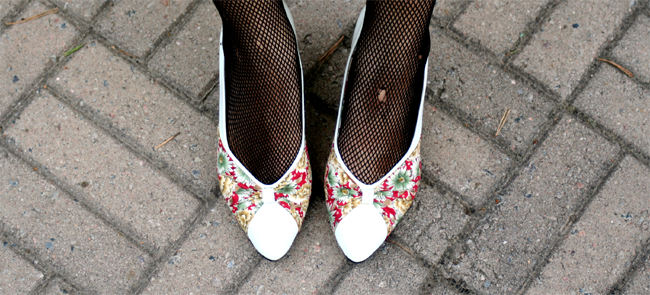 I found these gorgeous little heels second hand with 50 cents! I luv them, and they're very comfortable!
Leather jacket: don't remember
Shirt: Moshi
Tights: ?
Bag: second-hand
Shoes: second-hand